Deadbolt locks Reviews
Deadbolt locks provide the best security on residential and commercial doors. The term dead is referred to these locks because they do not contain springs. A single-cylinder deadbolt is operated with a key from the outside and with a turn button on the inside, and a double-cylinder is operated with a key on both the inside and outside. Double-cylinder deadbolts can pose a danger during an emergency (a fire, bomb threat) if the key is missing or not readily available.
A single-cylinder deadbolt  
This single-cylinder deadbolt is operated by a key on the entry side. It has a fully adjustable latch and deadbolt to fit all standard doors.

  A double-cylinder deadbolt
This double-cylinder deadbolt is operated by a key on both sides and features a Smart-Key cylinder for easy re-keying. It has a fully adjustable latch and deadbolt to fit all standard doors. It is an extremely loved deadbolt by consumers and the ratings are high for it.
Our smart lock reviews
Smart locks are digital locks that can be connected over wifi or Bluetooth. by connecting with them you can lock or unlock your door. smart locks don't need a key to enter the house. it just needs verification from the owner to open the door mechanically. so, whether you are home or far away, you will always be in control of your home. smart locks are convenient for people. however, they are expensive and cannot be used by everyone. the safety smart lock provides is wanted by all. the convenience it provides is commendable.
This lock generated code is a very convenient feature if you want to give someone access and you are away from home. it doesn't require internet or Bluetooth access for the code to work. the Reagle smart lock generated code, "reaglecode", is 8 digits long. and usually used for a short duration such as for babysitters, cable installers or Airbnb guests.
Backed by 70 years of door lock security, Kwikset's smart deadbolts offer the utmost protection. featuring multiple levels of encryption to increase security, dual-factor authentication, and auto-locking for added convenience.
Check the latest price on amazon key features of the product: the smart key security from Kwikset uses advanced technology to give you the strongest and most sophisticated lock. it protects you from these…rah-rah, advanced theft techniques. with the Kwikset deadbolt lock, you get to enjoy a re-key technology to deal with the cases of lost or unreturned keys. you do this process alone, leaving the old keys useless so that someone else can't use them for unauthorized entry. the process takes place just within seconds. all you need is the current key, the desired new key and the SmartKey tool coupled up with a few minutes. no special skills needed.
1. learn lock lingo the deadbolts we've tested, both conventional and smart, are single-cylinder, operated using a key from outside or a thumb turn from inside. the high-security locks have hardened cylinders, unique pin configurations, and other defences. industry rankings, grades 1 to 3, seem to track with our ratings, with grade 1 locks being the most difficult to disable. but packages don't always display that information, so you might have to check company websites to find out how a lock is rated.
View on amazon the Kwikset SmartCode has several things going for it that we love. the first is the ease of installation: you only need a screwdriver, and you don't have to hardwire anything into the door. the second is that it operates on four aa batteries and includes a battery level indicator to help prevent lockouts because of dead batteries. the Kwikset automatically locks itself after 30 seconds, so even if you forget to lock the door on the way out, it's okay. there is also a lifetime warranty on the equipment.
Karen Ellis, I'm looking for a keyhole lock blocker – but it seems they are not sold in the USA? what is an alternative to a lock blocker that I can use to keep those with keys to the front door out of my home while I am gone? Mathew Romines some claim about smart locks being easily gotten into are just not true. all locks can be gotten past regardless of claims by manufacturers. quality smart locks are much more difficult to get past than standard locks and have the advantage of being able to document and photograph whoever tries to use them.
Best Keyless Door Lock Comparisons and Reviews 2019
Welcome to keyless door-lock reviews, the number one place for you to find the top-rated electronic door locks to secure your personal spaces. you've got a home to protect? an office to keep secure? that's no problem, you'll find all the information and specifications you need under one name: keyless door lock reviews.
Welcome Message From Keyless Door Lock Reviews
A smart lock is arguably the most important part of a truly smart, connected home. not only will it allow you to come and go as you please, but it will also monitor who is entering and leaving your home while you're away. some models simply let you use your phone to open and close doors. some let you assign special privileges to friends, family members, or maintenance staff. others can be activated using voice commands or triggers from other smart home devices and services. here are a few things to consider when deciding on a smart lock, along with reviews of the top models we've tested.
Most keyless door locks work like garage doors: they have a keypad where you enter a code to open the door. in recent years, devices like the august smart lock have come on the scene, turning your smartphone into a key fob so you can lock and unlock your smart lock using only your phone. some smart door locks will even sense when you (and your phone) are near, locking or unlocking the door automatically. keyless door locks require batteries or hardwiring for power.
The Best Door Lock Reviews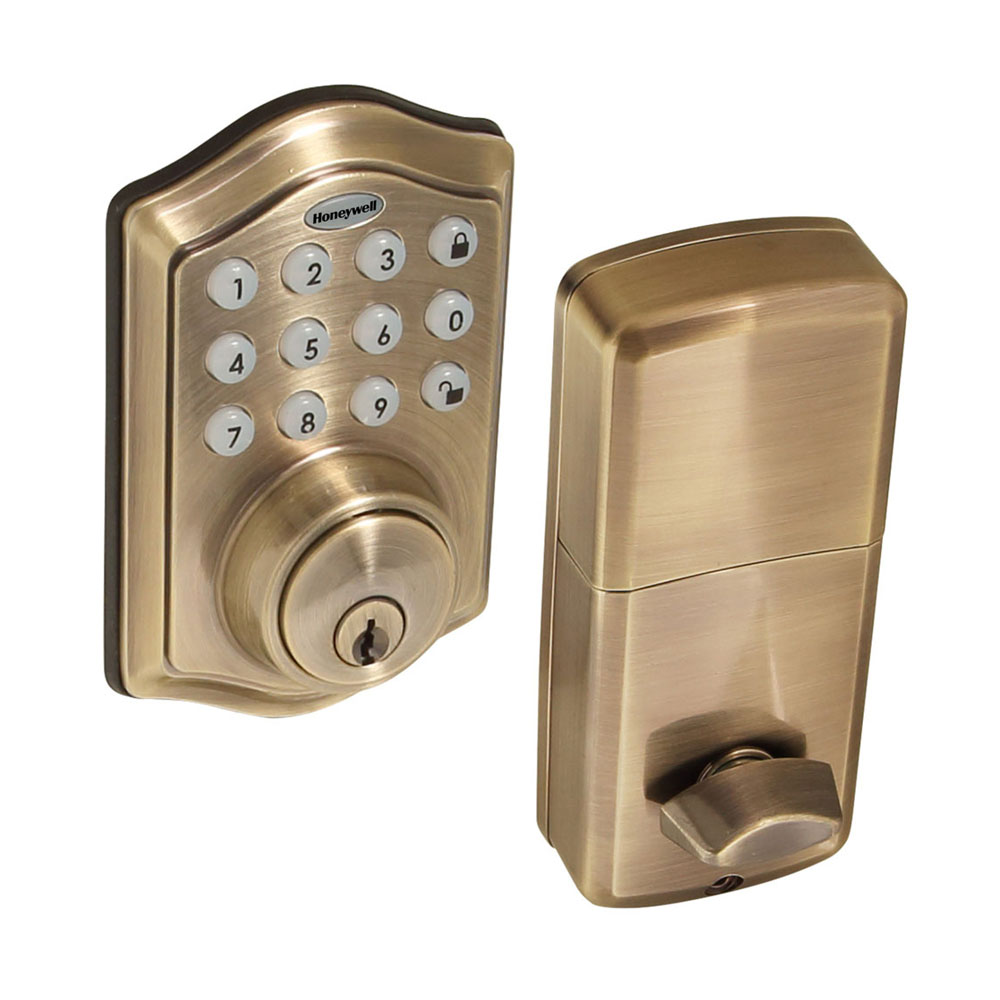 Smart locks are a great addition to your home security. if you forget to lock up before you leave, they can be locked remotely. you can also unlock the door remotely for your child or a pet sitter without the worry of extra keys getting lost or stolen. some smart locks don't even need keys at all. you can use a code to open the door or unlock the door automatically when you arrive with your phone.
In recent years, Kwikset released another type of lock to the market called "Kwikset smart key". this lock comes in both doorknob and deadbolt forms and although it looks very similar to the regular lock models – it has a completely different type of cylinder (you can recognize it by a tiny hole located left of the keyhole). since the internal design of the smart key cylinder is completely different, it is known to be extremely hard to pick, bump or compromise in any non-destructive method. this may be the only lock made by Kwikset that is harder to pick than the Schlage lock, however, due to the fact that it still uses the same type of housing, screws and bolt as the regular Kwikset deadbolt – it is still relatively easy to compromise using any of the forced entry methods.
When shopping for a smart lock, there are a few factors to consider. lock type smart locks come in two types: deadbolt and lever-style. the former is designed to replace your existing deadbolt, while the latter has the lock and door-opening lever in one. deadbolts are the most common, but lever locks are becoming more common.
Featuring a Schlage 'c" 6-pin keyway, this grade 1 ANSI lock by manufacturer c.r. Laurence is completely resistant to any kind of forced entry. the look of this lock is a little different, so it may not be suitable for your front door. instead, you may find it a better fit for a closet, office, or some other type of business application.
Buy on amazon buy on home depot a door lock should keep your home safe and secure while providing easy access for you and your invited guests. the Kwikset 991 Juno is a no-nonsense lock with the highest grade of residential lock security (ANSI grade 1) and a simple way to rekey the locks for security reasons or convenience. this combo set includes both the entry doorknob and a single cylinder deadbolt.
We are here to help you keep your home and family safely connected. whether you're looking to pick a smart lock system, we've spent hundreds of hours researching locks to help you find the best product to fit your specific situation. at postscapes we combine our years of experience following the smart home market along with user reviews to take the guesswork out of living securely connected. learn more.
Smart locks add convenience, but it's important to remember that this option is first and foremost a security device. it's important to take security features seriously. use a pin code for any voice commands unlock, and make sure you only give access codes to unlock the door to people you trust. enabling the auto relock feature is also a good idea, so the door will lock behind you if you forget.
Customers have given this deadbolt high rankings and it is a dependable deadbolt.